Theme Halloween Costumes>>Storybook & Fairytale Costumes
Paul Bunyan Costumes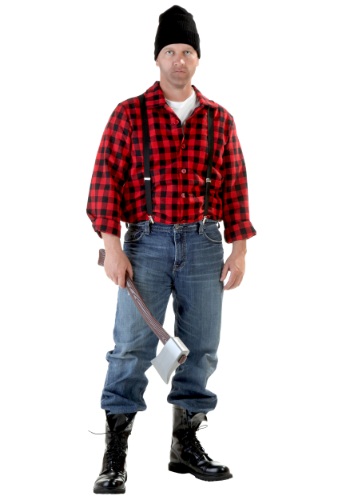 Timber!Life is hard when you're a lumberjack. You have to work long, hard days doing manual labor with basic tools. You camp out in the woods without running water or electricity, exposed to the elements. You have to put up with mosquitoes and ticks and the occasional grizzly bear. You don't get paid much.And worst of all, you're always compared to that show-off Paul Bunyan.That lumbering giant is obnoxiously perfect. The guy is seven feet tall and managed to cut down all the trees in the entire Dakota Territory. His pancake griddle is so big that cooks have to skate on bacon slabs to grease it. He uses a hallow tree as a megaphone. He created Oregon's Mount Hood by piling a bunch of rocks on his campfire one night. He dug up Lake Michigan as a watering hole for his equally giant blue ox, Babe. He created the Missouri River when he cried over Babe's death. He even dug out the Grand Canyon without noticing it. Honestly, how can you compete with that?Well, maybe you can't chop down an entire forest of trees with one swipe of your ax, but you know one area where you can compete with America's most popular logger? Fashion. Paul Bunyan will have nothing on you tomorrow when you show up at work in this Adult Lumberjack Costume. The red-and-black checkered long-sleeve shirt has working buttons down the front, and the length-adjustable black elastic suspenders have silver-tone metal clips for a little extra glint. It also comes with a black acrylic knit stocking cap to keep your ears warm on cold mornings. The Adult Lumberjack is both fashionable and functional, and it's sure to give you a leg up compared to all your fellow lumberjacks.Take that, Paul Bunyan.
Polyester
2019-02-03 22:56:26.723
instock
$24.99