Theme Halloween Costumes>>Storybook & Fairytale Costumes
Alice in Wonderland Costumes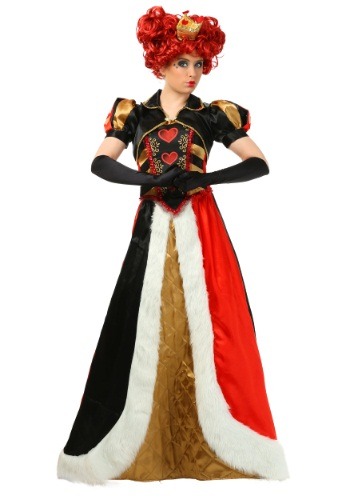 If your costumes parties are anything like ours, they're inevitably filled with heroes and do-gooders. We can't blame most people for wanting to be the good guy, but let's face it, we're not like other people. That's just not who we are! Yup, it's the antagonist life for folks like us, and while we might not actually be looking to foil the fun times with actual evil and villainy, that's still not a good enough reason to not indulge our dark side every now and again and go as a infamous evil character.And if you're into anything Alice, we're sure that they Queen of Hearts is at the top of your list of villains to portray! If you'd like to give this classic character a spin this Halloween, make sure you do it with this Elite Queen of Hearts costume. Seriously stylish, this plus size elite costume is a cut above the competition because it's is made and designed by us right here at HalloweenCostumes.com. And we're not just costume experts, we're also fans, so we make sure to get the details right. (And don't worry, nobody lost their heads designing this costume!) Styled as a corset, jacket, and skirt combination ensemble, this elegant outfit is sure to have you feeling like you make your home in Wonderland. A cropped jacket features gold trim and puffy short sleeves and fits over the elaborate corset. The corset has support structure but a little bit of stretch for fit, and it features printed details along with red lace and sequin trim. But the gorgeous skirt is what gives this Queen style the iconic look. Black, red, and gold quilted satin sections are edged by rich white faux fur that makes a bold Wonderland fashion statement. In plus sizes 1X to 3X, we're sure to have just the right fit to let you up your Alice in Wonderland game. And if at any point in your evening you encounter adversity, well, off with their heads!
Polyester
2019-01-11 19:44:06.877
instock
$74.99