Theme Halloween Costumes>>Storybook & Fairytale Costumes
Alice in Wonderland Costumes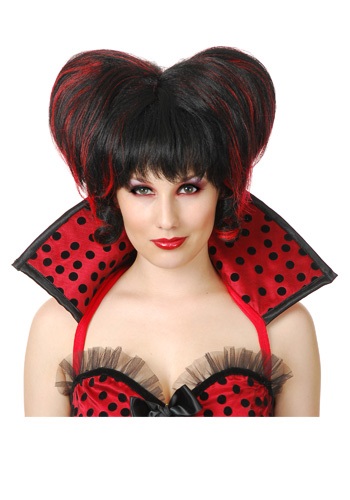 Strange behavior, offbeat outfits, and silly tea parties and croquette games aren't the only odd things you'll find during your travels around Wonderland. You'll also see delightful hairdos and quirky coiffures to go with all the weird sights. And the Queen doesn't get a pass simply because she's in charge. Quite the opposite, actually, since royalty can't be out-styled by their subjects!When it comes to queenly fashion, no hairdo can beat this Queen of Black Hearts Wig. Whether you're wearing an elaborate, frilly gown, or sporting a royal look that is a little more sassy and sexy, this poofy black and red synthetic wig is the perfect heart shaped accent to go with your Queen of Hearts costume. One may think you've gone a little mad with power under this fabulous 'do, but that's okay; everyone in Wonderland is at least a little mad!
2018-04-10 11:36:53.680
instock
$24.99