Theme Halloween Costumes>>Storybook & Fairytale Costumes
Alice in Wonderland Costumes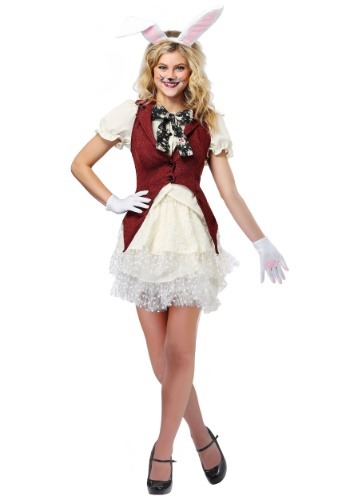 Time Is On Your SideThe White Rabbit is famous for running late. The thing is, that's a totally unfair analysis of the poor bunny's character. If you think about it, the White Rabbit was actually completely on top of his affairs, he just seemed a little harried (no pun intended) because he was living in a topsy-turvy dream world. Who hasn't tried to get to an event in their dreams only to end up somewhere completely different? Alice didn't seem to mind the twists and turns of Wonderland but she didn't work for an overbearing queen, did she? So here's the thing. It's about time we take the White Rabbit out of Wonderland. We think once this rabbit out of that chaotic environment, we might have a rather capable character on our hands. In fact, you can be the one to rewrite the White Rabbit's besmirched character with this adorable White Rabbit costume!Product DetailsYou'll feel like you're on top of the Wonderland game when you're rocking this White Rabbit outfit! The blouse has sweet puffed sleeves and is attached to a flowered bowtie. The vest linen textured vest has an adorable rabbit's tail in the back. You'll love the layered skirt with a built-in petticoat offering plenty of bounce and texture. The whole ensemble is topped off with pink and white ears and matching gloves. In case you were wonderingAre you putting together a themed party with friends? It's never been easier to put together an adorable Wonderland group costume. Team up with Alice, the Hatter, and the Queen of Hearts and you'll find your costumed event feels more wonderful than ever. Just remember, don't let anyone make you feel rushed, especially that queen. She's pushed you around long enough. It's time you became the confident White Rabbit we knew you were all along!
Polyester
2018-11-01 19:27:51.987
instock
$54.99