Theme Halloween Costumes>>50's Costumes
Pin Up Girl Costumes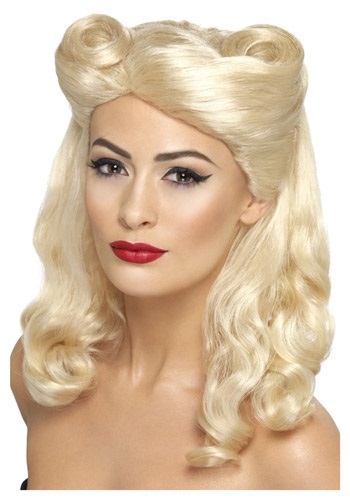 You're a classy dame. There's really no question about that. You've got the right dress and know all the perfect poses and even the dance moves that help to bring your look to life. Perhaps you're going to set the night on fire at the nightclub… singing, dancing, or even sitting at the corner booth, slowly sipping a slim drink while leaving all the boys wondering about your mysterious identity. Or it may be the perfect time to let the top down on the Cadillac Convertible and let the night wind blow through your hair.Of course, with either of those lovely activities, there is bound to be a problem. How can you strike the perfect post and draw the attention of the masses when your hair gets all frazzled by the very night air that is supposed to make you glow with mystery? There is a solution for this dire problem, however, and it comes in this glorious 1940s Blonde Pin Up wig. The mesh-netted cap transforms your locks into shoulder length platinum blonde hair with loose curls and a crown of '40s period-perfect victory rolls. Fear no blustering wind or even a shift from ballroom melodies to big band in this stylized wig that will have you ready to move from being a Pin Up to pinning down your starring role.
Olefin
2019-02-03 22:56:26.723
instock
$29.99