Theme Halloween Costumes>>50's Costumes
Pin Up Girl Costumes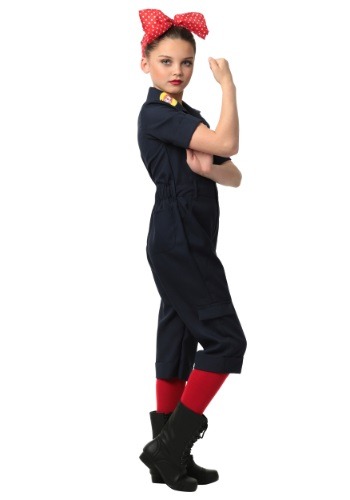 You've got one hard working little lady on your hands. We know that one day she'll make a difference and help the world become a better place for people everywhere. Although until she's old enough to make these changes that she is so passionate about, she can at least dress like she's ready to take on any job! She'll be an image of inspiration on Halloween when she is running around in this Child's Hardworking Lady Costume. She can bring everyone back to the 50's with this classic look and remind them of the importance of civil rights. Her jumpsuit will have a patch with her new mantra "We Can Do It" printed on it. Everyone will have faith in her slogan when they see her hair pulled back by her red and white polka-dotted bandanna. Whether it's working on an assembly line and building airplanes, welding the sheet metal together for the sides of submarines, or being the face of a social movement your kiddo will look ready to go with this Hardworking Lady Costume! While other girls in the neighborhood will be running around as pretty princesses, wicked witches, and fancy fairies, your girly will be proudly strutting around the block as an iconic figure.It's clear that your little one has strong opinions about the world she lives in and strives to make changes someday. So help today, by grabbing this Hardworking Lady Costume and giving her the confidence to follow through with her plans to make the world a better place. We believe that She Can Do It!
Polyester
2019-02-03 22:56:26.723
instock
$34.99