Theme Halloween Costumes>>TV / Movie Costumes
Dumb and Dumber Costumes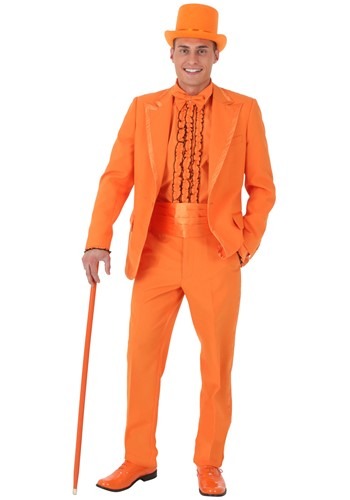 Do you have an affinity for hot sauce? Perhaps you enjoy riding scooters with friends in freezing weather? Do you imagine yourself chasing a girl across the country to return her briefcase? If any of these sound like you, Lloyd from Dumb and Dumber may just be your spirit animal.What do you do when you receive a windfall of unexpected cash and need to impress a special someone? You find the most handsome tuxedo available! This Dumb and Dumber Lloyd tuxedo is spot on for such an occasion. While others may stare, you know that deep down they are simply jealous.This officially licensed Dumb and Dumber tuxedo has everything you need to impress the person you would chase all the way to Aspen at an affordable price. This deluxe tuxedo starts with a pair of tuxedo pants that have side pockets, back pockets, and a satin stripe down the outside of the legs. The matching orange shirt has a ruffle front with black piping and buttons down the front for a classy look that's sure to be an attention grabber. The orange suit jacket has a single button closure in front and really pulls the look together. Don't forget about the most majestic part of the tuxedo: the coordinating cummerbund and bow tie are also included to take this look over the top! Add a top hat, socks, cane, and shoes for the total package that will surely impress your prom date or friends for Halloween or any formal gathering.
Polyester
2019-01-29 11:01:55.553
instock
$199.99