Theme Halloween Costumes>>50's Costumes
Pin Up Girl Costumes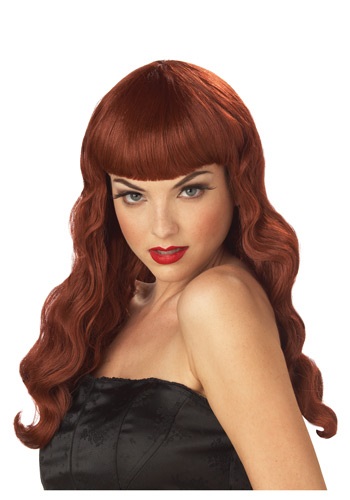 Va-va-voom! Become a fiery pin-up girl with 50s style when you wear this Pin Up Girl Red Wig. Prove everybody wrong: let it be known that redheads actually have the most fun! Perfect for dressing up as Jessica Rabbit, Ariel, Carmen Sandiego, or Kathy Griffin, this Pin Up Girl Red Wig is as versatile as it is… red. Which is very.Pin-up art started around the turn of the 20th century as wholesome images promoting fitness and cleanliness that were enjoyed by members of both sexes before becoming more associated with suggestive material aimed at men, diverging into "good girl" and "bad girl" art as decades passed. Some feminists argued pin-up art degraded women as little more than eye candy for men, while others championed pin-up art as promoting freedom and fun for women and challenging Victorian social mores that associated the female body with impurity. Wow, so much has changed! With this Pin Up Girl Red Wig, you can go as a babe in the woods or a sultry femme fatale, a good girl, bad girl, or anything in between––as long as she has red hair!
Faux Hair
2019-02-03 22:56:26.723
instock
$14.99