Theme Halloween Costumes>>TV / Movie Costumes
Saturday Night Live Costumes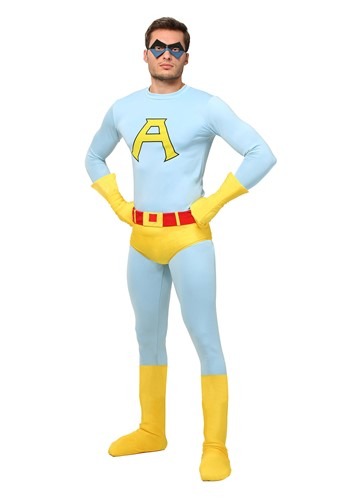 Being a superhero like Ace from the Ambiguously Gay Duo is hard work, but we think you are cut out for the job! You need to keep on top of your young protege, Gary, to make sure that he learns the right kind of habits while fighting against super villains. That means, you need to teach him all about the power of special friendships and you need to show him the correct kind of outfit to wear while stopping evil in its tracks! Of course, the best thing you can wear while teaming up is a baby blue spandex suit that allows you to retain maximum flexibility while performing your super heroic feats! If you're planning to step into the role of Ace from the hit Saturday Night Live sketch, then you're going to need a suit of your own. Lucky for you, we happen to have the perfect one! Introducing this Plus Size Deluxe Ace Costume! The licensed costume comes in the baby blue color that Ace is known for and it even has the large "A" printed right on the front. The costume is made of a stretchy spandex and nylon blend, giving it a form-fitting style that looks just like the cartoon. The matching yellow gloves and briefs add that final touch that will truly have Gary, and any bad guys you might encounter during your day, in complete awe! Gary might even feel like giving you a nice pat on the back to celebrate your new look! Characters are owned by NBC Universal Media, LLC.
Polyblend
2019-02-03 22:56:26.723
instock
$44.99